Let's hear it for the bois
About a week ago, somebody did to Rachel Maddow what I — if I was famous — would dread more than anything in the world. They leaked her yearbook photo. It's not that it's a bad photo but dude, it's sparked some nasty conversations on the internet. While I took one look at the pic and smiled, cringing on her behalf, a lot of people FREAKED OUT. While the first thing that Buzzfeed (the website that published the photo) said was "I'd tap that," comments that focused on the "pearl necklace" and "showing her girlfriend what a real man is like" followed the picture around the internet.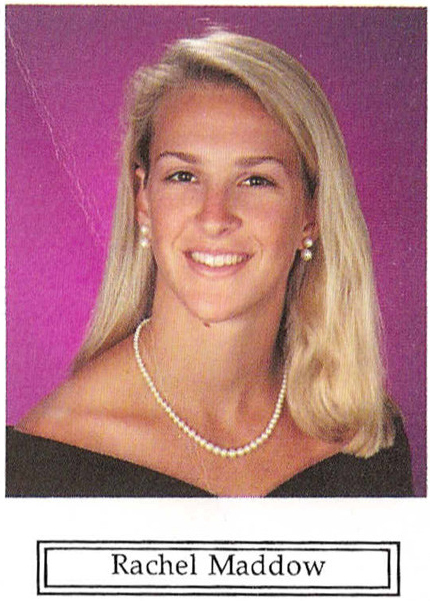 That's exactly the kind of language we'd heard about Rachel Maddow before from the IdiotNet. The only change is the willingness (which I'm sure she treasures) to "tap that". And when I say the IdiotNet I mean the websites that couldn't be bothered looking past their initial reaction to the genius on their TV machine to the real social change that she represents.
They just felt fear, and went with nasty insults. The insults got nastier when they realised that she had once fit into their ideal of "how a woman should look". Perhaps they'd decided it was ok for a woman to look like a dude if she had no other choice. A bit of patriarchial pity, I guess, goes a long way. But now — NOW — they realise that she wasn't lying when she said, "It's not like I'm trying to be girly and failing."
Where I lived when I first came out, it seemed like everyone wore plaid shirts and doc boots, and I remember saying things like, "I like women who look like women." It was problematic enough without being a lie. Which it was.
It's hard to define butch. I may look at a woman and think "butch" when she thinks no such thing about herself. One of my more insightful twitter buds suggested this definition:
doesn't do make-up but does use hair product
by @JacqKelly
But really, what we call butch or boi runs the whole gamut from women who get called "young man" sometimes to those who get called "sir" most of the time. I'm talking about women who wear jeans and hoodies and baseball caps, women who rock a three-piece suit,  women who haven't worn an item of women's clothing in 20 years, women who bind and pack. Even those who still willingly wear skirts sometimes. It can be about identity; it can be just about looks; it can be playfulness too.
Whatever definition or type or degree of boi or butch she is, a woman who spends her life presenting as other than "how a woman should look" is a lightening rod for hate and violent rhetoric.
The queer community has accomplished so much when it comes to acceptance. But when it comes to the trans, cross dressers, gender queer and just plain butch, there's so much more to accomplish. Society may well be ready for two pretty girls in white dresses to walk down the aisle, but the wider society is still remarkably intolerant when it comes to people whose gender isn't obvious to the casual observer.
That is why we should celebrate butch and boi  in our midst. Because until we are all celebrated, we're still losing. If our families become accepted only because we manage to successfully play the straight game, we're not really accepted.
Without further ado… allow me to celebrate some ungirly girls:
There's Rachel Maddow, and since I started with her high school photo, I'll finish with a photo that might be a bit more her style. The Standford and Oxford grad turned brilliant tv news anchor openly describes herself as butch and only wears makeup and "lady clothes" (her words) for television. Is on Twitter.
k.d. lang is iconic. Butch when lipstick lesbians were chic, she was the epicentre of controversy for large parts of the early 1990s. Her being out inspired Melissa Etheridge and Ellen Degeneres to come out, sparking a huge increase in lesbian visibility. Still awesome after all these years.
Model & actress Jenny Shimizu dated Angelina Jolie. But apparently this lesbian is also a pretty fantastic mechanic. I'm not sure I need to add anything here. Is on Twitter.
Samantha Ronson — known as SaMANtha Ronson by the IdiotNet. The bisexual butch DJ is the on-again, off-again consort to Lindsay Lohan. Also known for using language with reporters that would make, well, reporters blush. Is on Twitter.
Alison Bechdel — lesbian author of "tragicomic" Fun Home and comic strip Dykes to Watch Out For. Also responsible for the "Bechdel Test" that makes all feminists depressed about our DVD collections.
Annalee Newitz — bisexual technology and science journalist, now editor of Gawker blog, io9. Often rocks a tie and waistcoat with geek accessories. Used to write extensively about sex, sexuality and gender. Has recently expressed a desire for a detachable penis. Is on Twitter.
Skyler Cooper — classically trained actress and personal trainer. Owner of amazing arms about the size of me. Hopes to own a gym someday. Once played a lesbian Othello. Is on Twitter.
At first it seemed like there were so few, I'd have no one to write about. It didn't take me long to realise how wrong I was. For more celebrating, visit sugarbutch's Top Hot 100 Butches.
Also, who did I leave out?
No related posts.